Setting up your first studio can be … intimidating.
Not only furnishing the studio but also what to look for in the space and how much storage you need.
When trying to find space for your weaving studio just remember that it can be anywhere. You might consider a second bedroom, dining room, shed, or a rented studio downtown. My personal studio used to be the dining room in my house! Before that I used our second bedroom. If you can find the space for your perfect studio then go for it, if you can't then make the space you can find perfect.
If you're not there yet, then make sure to check out my post on weaving without a studio.
---
Space
---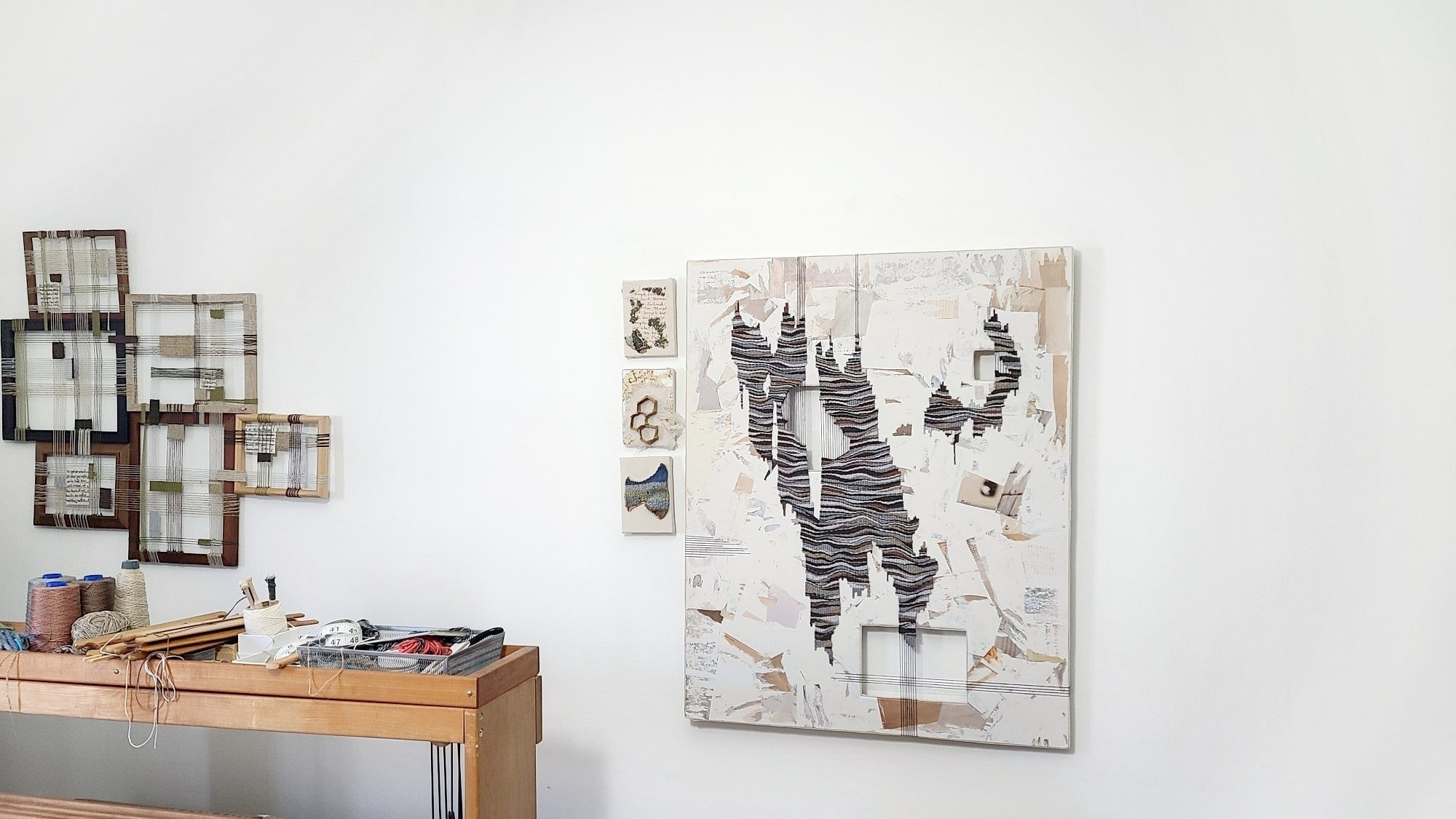 ---
The studio itself can be just as important as what you put in it. You may not always have a choice when it comes to actually choosing your space. If you have the choice for your studio space then there are some things that you might want to consider when looking around for the perfect studio.
You will want to consider both the furniture you have and the furniture you might want. Knowing what you want to weave will really help because it can determine the types of looms that you will have in your weaving studio. If you are planning to weave lots of large weavings then you need to make sure you have enough room for a floor loom or possibly a large rigid heddle loom with a stand. If you are planning to stay small then a smaller space where you can sit and weave on a frame loom might be all you need.
Generally, we can probably all agree that the larger the studio the better! That being said, making good use of the space you have can be essential.
---
Install wall
---
One of the things that I looked for in my studio was a large blank wall. This might sound kind of weird, but it's perfect for installing your weavings to photograph them. If you are weaving on a frame loom then you can also hang your frame up while it's in progress in order to step back and get a different perspective.
This is something that I definitely recommend, especially if you're feeling stuck or uninspired. Gaining a new perspective on your artwork can help you to see it in a new light. But I digress…
This wall will ideally be painted a bright neutral white for the best background for your finished weavings. Keep some spackle (I like this one because it goes on pink and turns white when it is dry) on hand to fill in your large holes from installation if you are using nails. Make sure to gently tap down any convex surfaces from pulling the nails out pre-spackle. This will help keep your wall flat.
You also have the option of editing the holes out of your photographs, but eventually, you will have to fill those holes. You should also keep a small container of the same white paint on hand for touch-ups after your spackle dries.
---
---
Lights
---
Natural lighting is the best for making artwork of any kind. If you have a lot of windows then that can be good for both lighting and inspiration.
Beyond natural lighting from windows, you will want your lamps or light fixtures to use white light and nothing too warm. If you are weaving artwork that will be shown in galleries then think about the lighting that they use. It's usually bright white lighting.
Think about where your weaving will end up and make sure that you are considering this when choosing your yarn for your weaving. Your yarn will look different in different lighting.
I use this LED lamp for my desk. It is great because it has multiple brightness levels that you can change with a quick touch and an easily adjustable arm so you can move the light wherever you need.
---
Inspiration
---
---
Inspiration is a really important part of your studio. Having plants, photographs, artwork, or anything else that inspires your weaving is great to have around.
Keeping a cork board to collect items that inspire you is a great way to keep them on display but still make them easy to swap out. I tend to also collect things that inspire me and have them live amongst my yarn and books.
If you are lucky to have a great view then that in itself could be your inspiration. Think about where you will be sitting the most – at your loom, desk, or somewhere else – and try to make that have the best view in the studio.
---
Materials
---
I've written a few posts already on materials that you might want for your weaving studio. So check out my post on 6 studio necessities or my supplies page for my favorite supplies that I currently have in my personal studio. Otherwise, these are some other materials that you either need or could be useful.
---
---
Yarn
---
You probably aren't going to get too far without yarn in your weaving studio. While you can weave without yarn ( check out weaving with paper) most often, yarn will be the go to. As far as yarn goes, if you are weaving tapestry then I recommend starting out with some 8/4 cotton rug warp.
You will also need weft but that is a little harder to recommend because it really depends on how or what you want to weave. Tapestry is often woven with wool, but I usually use cotton and linen.
If you are not planning on something specific then grab a few cones of your favorite color that will inspire you to start creating! If you are looking to buy yarn online then check out THIS post with my favorite online yarn stores. You might also want to look at THIS post about the difference between weaving and knitting yarn.
You will also probably want shuttles or bobbins if you are weaving anything that will require large amounts of specific colors. Butterfly bobbins are a great option for when you only need small amounts of color at a time. If you want to learn more about the differences between shuttles, bobbins, and butterflies then make sure to check out THIS post.
---
Other supplies
---
---
While the next set of supplies may not be essential, they may makes things a little simpler.
Scale
This probably isn't something that you would normally think of for a weaving studio, but having a scale can really help you to price out your work. All you need is a simple kitchen scale like this one! Weigh your yarn both before you begin your weaving and after you are done. If you kept track of the price of your yarn in something like a yarn notebook then you will have easy access to the price per ounce of your yarn. Use this to figure out just how much the yarn you used for your weaving cost.
Yarn ball winder and yarn swift
These tools usually go hand in hand. More than likely if you bought some yarn on a hank instead of a cone, then you will want to wind it into a more easily usable form. If you bought your yarn online, then you can always check to see if the company or shop will wind it for you. If that is the case, you may not need either at all!
If you are buying a lot of yarn, though, that doesn't come already in ball form or there is no option to do that, then you might want to invest in these so that you are not stuck doing it all by hand. (Although you definitely can do that too.) You can check out The Woolery for ball winders and yarn swifts.
Warping board
If you are weaving on a floor loom, table loom, and sometimes even a rigid heddle loom then a warping board or warping mill is an essential tool for you to have in your studio. You will need this in order to measure out your warp for your weaving project. You could also build a warping board yourself if you are so inclined as they are essentially a frame with pegs.
The one I have is a Harrisville warping board. Learn how to use a warping board HERE.
---
Furniture
---
Loom
---
---
The loom that you choose will vary depending on what you want to weave, how much space you have, and the price point you are looking at. When you are first starting out you may have to choose your loom more based on the last 2 points then the first.
Like a lot of things in life, the right loom might just be the loom that you can get at the moment.
The loom that gets you weaving faster is better than no loom at all.
We all have a dream loom, but if you can find a loom that will at least get you on your way to practice, make smaller weavings, or simpler weavings then you can get your dream loom at a later time. You are not married to it, so you can change it out when it no longer serves you or you can just get more than one loom! No one said you can't have many looms or different types of looms.
The loom pictured above from my studio is a 36″ Harrisville 8 harness 10 treadle floor loom.
---
Desk or table
---
While a loom is generally the most thought about furniture that you will want in your weaving studio, it is also important to think about the extra space that you will need. Having a desk or table to sit at to sketch, plan out your weavings, layout your finished weavings for finishing and more can be invaluable.
If you are using a frame loom, having a desk is a great way to keep the frame at a better height for use so you are not bending over too much. (Learn more about your weaving posture HERE.) I also use my desk for cutting paper for paper weaving, storing projects in progress that aren't on a loom, resting my rigid heddle loom on, and more.
---
Seating
---
---
The seating options you have in your studio can play a major role in how you use your space.
I recommend a comfortable chair where you can sit and come up with ideas, sketch your next weaving, or take in the inspiration of your studio. I also like to sit back and work on my finishing techniques like weaving in my weft ends in a comfortable chair. Having a comfortable chair in the studio makes it not only a place to create but also a place to relax.
If you are weaving at a floor loom then you will want a good loom bench. I recommend one that can tilt when you sit on it so you can adjust your hips to sit straighter. I often put a pillow down so it's not so hard for long periods of time. You can find some with different pockets or cubbies to keep your yarn and supplies so they are within reach. The one that I use (pictured above on the right) can be found HERE. I love having the pocket below to hold the things that I need for the weaving I'm working on.
When sitting at a desk either working on a frame loom, rigid heddle loom, table loom, or doing anything else make sure to choose a chair that is comfortable and keeps you from slouching after being in the studio all day. Don't start hunching over! I like this ergonomic chair (pictured above on the left) because it helps keep my back straight while working.
---
Storage
---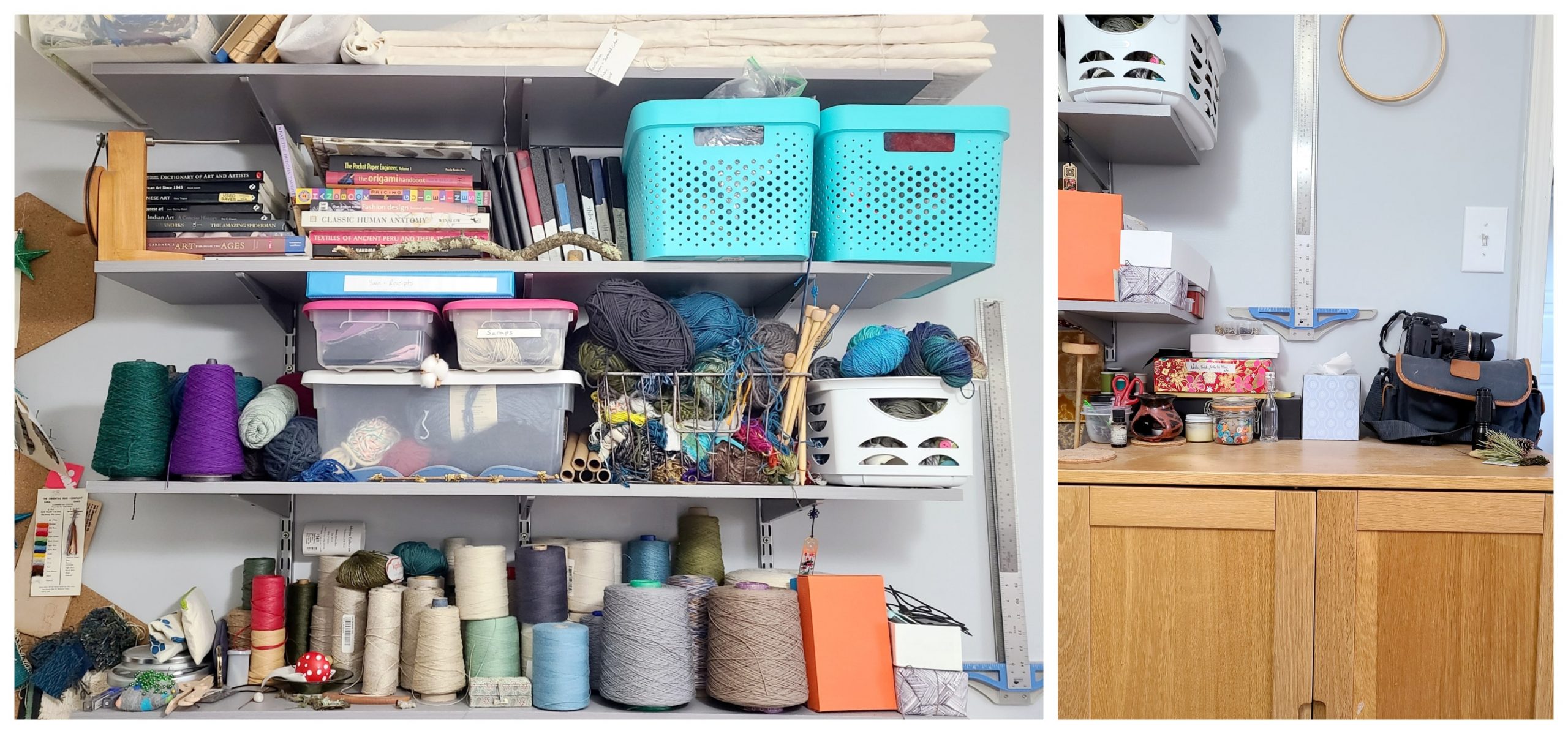 ---
There is never really enough storage in a studio no matter what. Just like most parts of your home, I'm sure, if there is space then you will fill it. Then when you find something else you need, well you will have to find a place to put it too!
Vertical storage is one of the best options that you can use to make the most of the space you have and often the most underutilized in and out of the studio. Getting long shelves that go all the way up to your ceiling can be a great way to take advantage of unused space for more yarn!
Depending on the type of yarn you use, you may want to consider keeping your yarn in a closed area to keep it away from moths. Specifically, any protein fibers like wool are a tasty treat for moths. Cellulose fibers like cotton and linen are safe from moths, but as most things do, they can still accumulate dust and dog hair if left in the open.
Think about how you use your stash.
Do you go through it fast? Then you are probably safe to keep it out on open shelving so that you can see it at all times. Because who doesn't like to look at a beautiful yarn wall? But if you will take a long time to go through your yarn then you may want to keep it tucked away and just take out the yarn you are using for each project. You can have a separate shelf or basket to put that yarn in for easy access.
Beyond your yarn, consider storage for books, tools, frames, and finished work. You can learn more about storing your finished artwork HERE.
Cabinets and plastic storage drawers can be used to house any number of things that you will want to keep out of sight or protected. You can make better use of space by putting the storage drawers under your desk and out of the way. I use storage drawers to keep fabric, installation materials, and other miscellaneous art supplies. You can use a simple strip of tape and a marker to label them so you never forget where you put that hammer.
No matter where your studio is make sure that it reflects you as an artist and maker. Your studio will probably look different then mine because we are making different things, but starting out with some of the above examples can help you get going. If you are having trouble then make a list of what you are doing and what you want to do and go from there.
If you have a perfect studio in mind (or you already have one!) let me know about it in the comments!
---
---
---
⇣ Love It? Share It! ⇣
---
---
You May Also Like
---