One of the first introductions that most people have to weaving is those woven paper place mats that you make in school when you are a kid. Once you get more into "serious" weaving, most of the time we leave paper behind.
But why?
Weaving is fiber art and paper is fiber! Paper is an amazing material to use when you are weaving because it allows you so many more possibilities outside of the normal fibers that are associated with weaving.
It is also a simple way to get some weaving in without the use of a loom. You can use it to break up your artist's block or clear your mind between projects.
So how do we elevate paper weaving from something you did as a kid to something you do as art?
Well, these are just some starting points:
---
This post may contain affiliate links. If you purchase something through these links then I will receive a small commission that helps keep the blog going – at no extra cost to you! Please read our DISCLAIMER for more info. Thanks for the support!
---
Designing patterns
---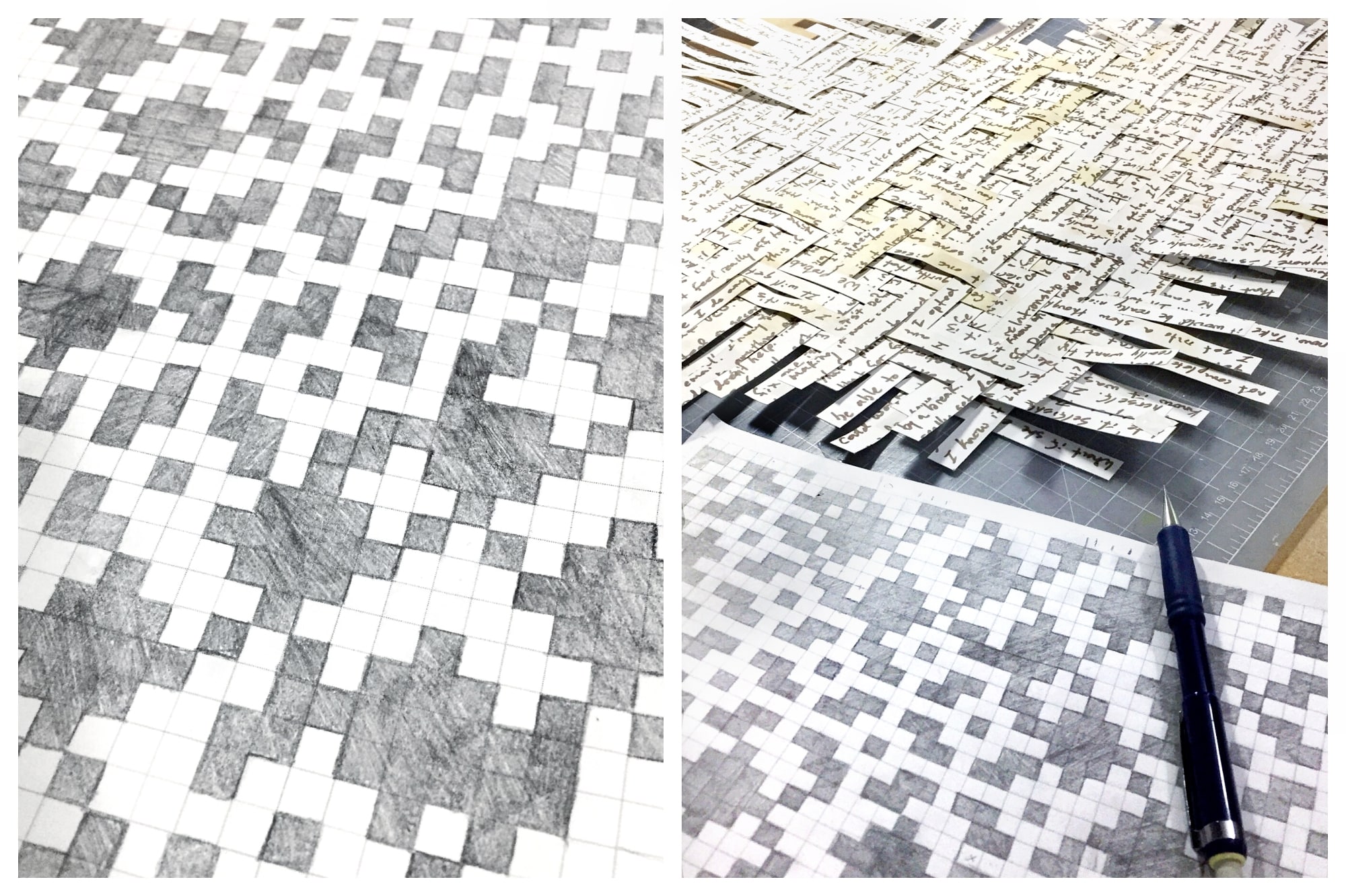 ---
One of my favorite things to do when weaving with paper is to use patterns – especially those that include a lot of floats.
*Floats are when your weft goes over more than one warp before going under again.
Depending on the stiffness of the paper that you have chosen to weave, these floats will create depth and interest. The stiffer the paper and the longer the floats, the more the pattern will leap off the surface of the weaving.
Weaving with tissue paper and weaving with watercolor paper will provide you with drastically different results.
While all weaving should be thought of as a pixelated image or pattern, this is exaggerated when it comes to paper. This is because the paper is flat and rectangular. Creating patterns for paper weaving is really simple to do with just a pencil and some graph paper!
If you need a starting point then I recommend looking at the draw-down portion of different drafts. My favorite place to look for easily translated patterns is on Pinterest. A lot of the draw-downs on the patterns found on Pinterest are not an image of the weaving but instead an illustrated diagram. Essentially, they look just like a pattern on graph paper. (similar to the drawn pattern above)
While you can follow these patterns directly, if you want to change it up at all or you want to combine multiple patterns then I highly recommend getting some graph paper. Use graph paper to plan out your paper weavings with each vertical column being a warp strip and each row being a weft strip.
An advantage to weaving patterns in paper over with yarn is that you aren't limited at all by your loom or tools. A woven pattern in paper could have endless variations within the same weaving without the use of a reed, heddles, pick-up sticks, or any other tools you would normally associate with weaving.
---
---
Paper weaving ideas
---
Weave photographs
---
Photographs are a really fun and interesting variation on the idea of weaving with paper. Since they already contain an image, any cutting and weaving that you do will create something that is disjointed.
One of the best examples of this that I have seen is David Samuel Stern who takes 2 photographs that are very similar and weaves them together to create a surreal and almost ghostly image.
Some other ideas:
Combine a photograph of a person and a place that reminds you of them or is significant to your relationship.
Combine a photograph with plain colored paper that compliments or accents the colors in the photograph.
---
Watercolor weaving
---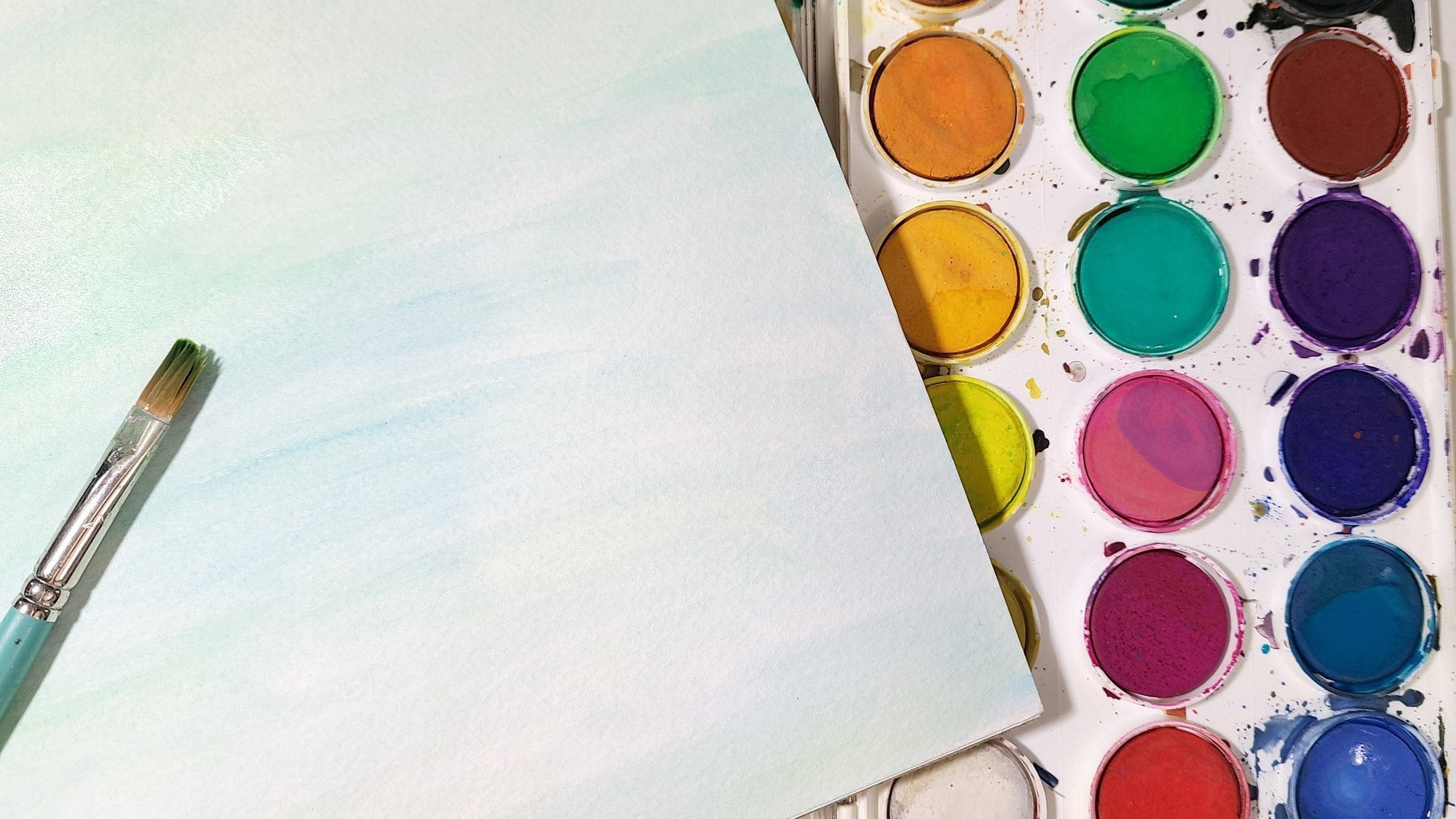 ---
If you are looking for some subtle coloring or patterns then watercolor can be a really simple and effective way to create an interesting weaving.
Even just 1 shade of paint can create endless variations depending on how concentrated you make it and the way you apply it to your paper. You can also have both your warp and weft be different colors to emphasize your pattern. Play around with different colors, paint densities, or designs!
Watercolor paper is also a really great material to use for your more dimensional paper weavings due to how stiff it is. If you don't plan to paint on your weaving then you could also use card stock or bristol paper (smooth) if you are wanting paper that will "pop up" from the background.
---
Journals/ books
---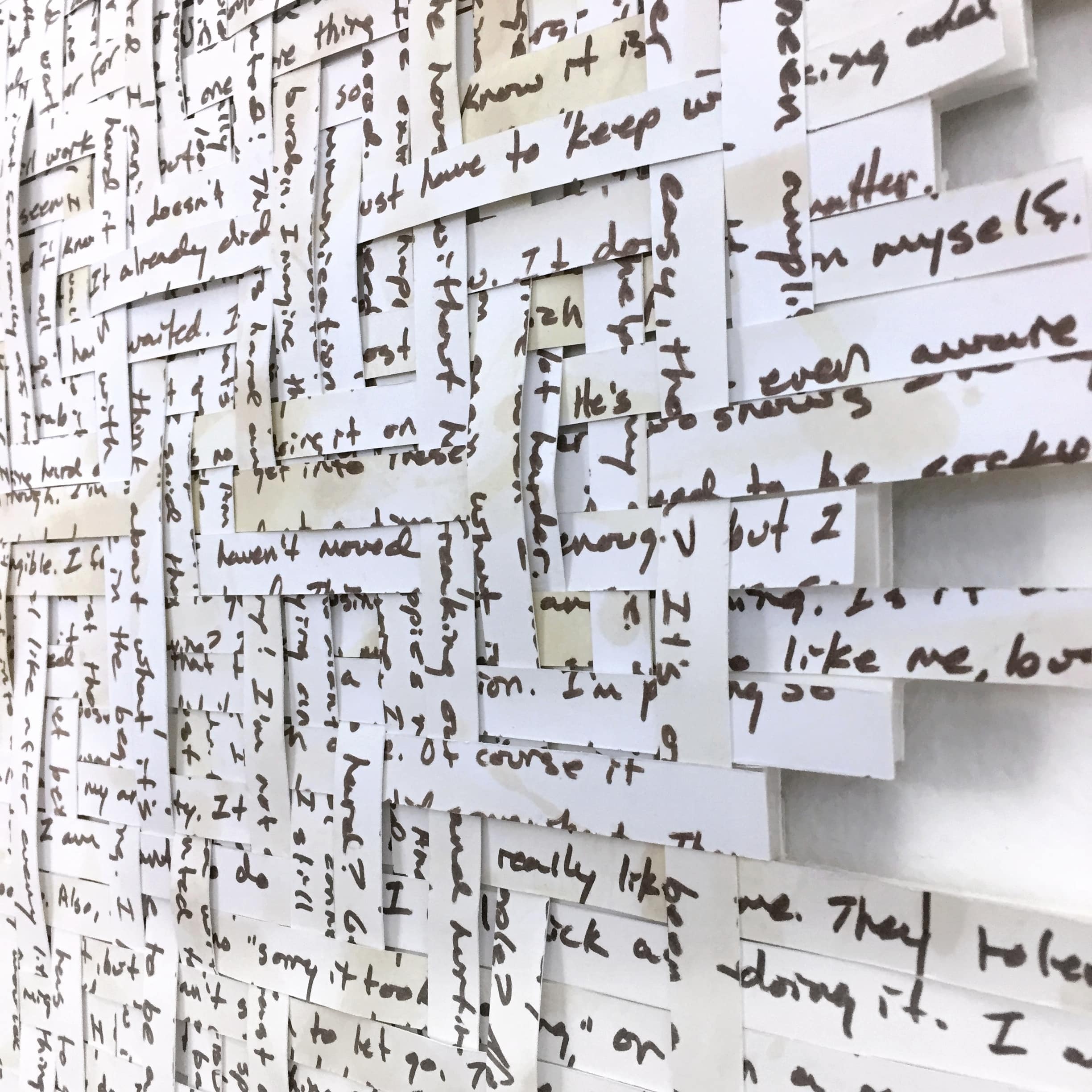 ---
One of the ways that I usually weave with paper is to weave up journal excerpts. While I usually do this by journaling directly onto paper (usually watercolor paper) you could also take pages directly out of a journal if you have one. The image above is a paper weaving that I did with journaling on watercolor paper that was stained with tea!
Another idea is to upcycle an old book – maybe one that is otherwise unusable – and weave up some of the pages. This could lend itself really well to then drawing, painting, or printing on top of these pages.
You can check out more images of At Any Given Moment and my other artwork HERE.
---
Tips for weaving paper
---
Materials needed
---
Paper – Tissue paper, photographs, watercolor paper, card stock, really ANY paper you want!
Artist's tape or painter's tape
Archival glue or thread
---
Cutting your paper strips
---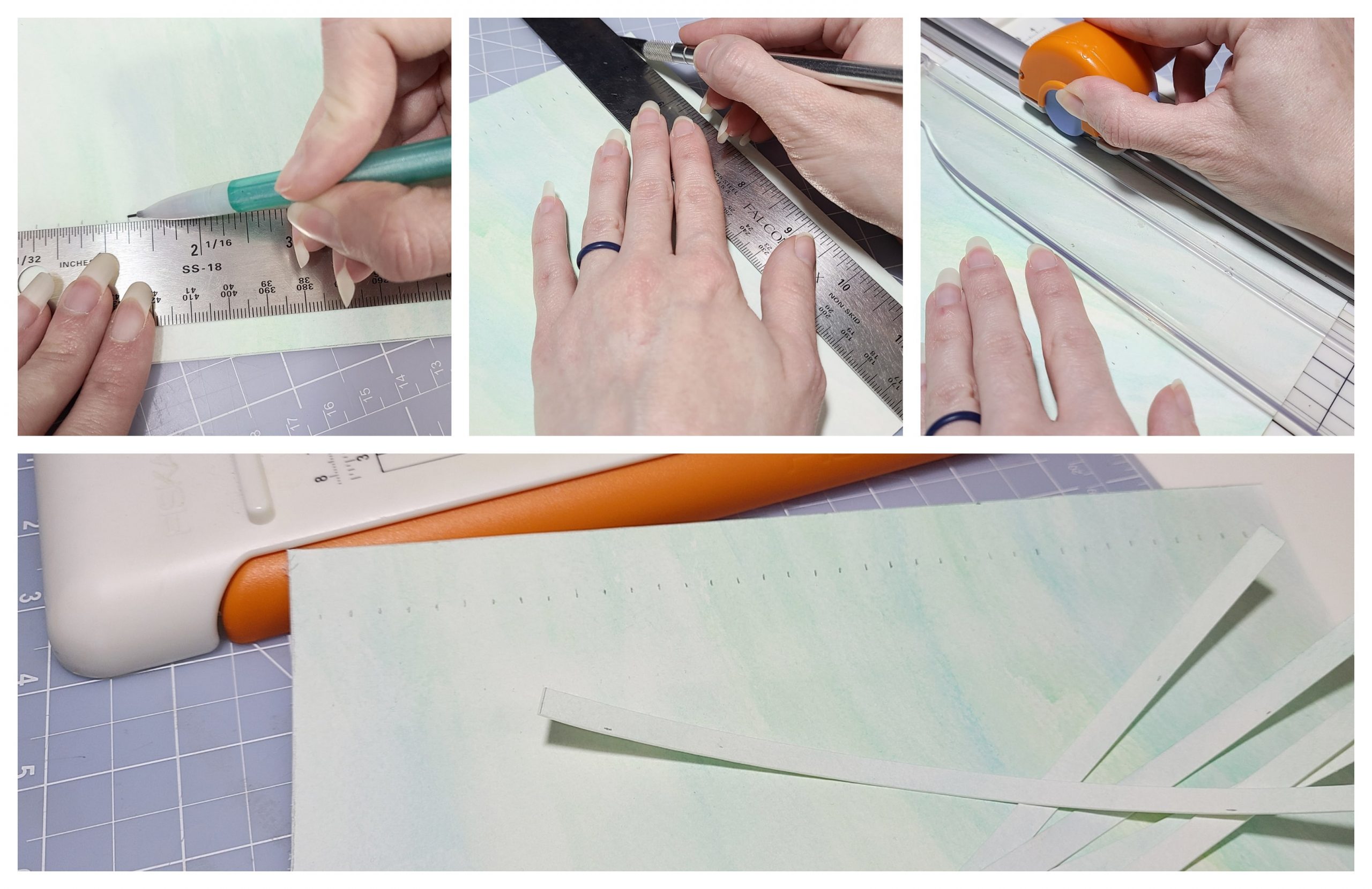 ---
While you can cut your paper strips with a cork-backed ruler and xacto knife (I have definitely done this before) if you want a faster and simpler way then I highly recommend getting a paper/ photograph cutter. I have used it for more than just cutting strips of paper for weaving, but it excels at this. It makes prepping your paper for weaving incredibly easy.
Using a cutter like this helps to eliminate the possibility of your ruler moving while you are cutting your strips. This could lead to uneven strips. If you are working off of a photograph or paper that would be hard to replace, it is better to make sure the cuts are good the first time! THIS is slightly a newer version of the one that I have. I prefer this kind because the rotary blade makes a smooth and easy cut for thicker paper.
---
---
Choose your warp and weft
---
Since paper is a free-standing weaving material there really isn't a definite warp and weft. That being said, laying out either your horizontal or vertical strips first can make the weaving process a lot easier.
You will want a flat surface that you won't need access to before your weaving is finished. That's because the best thing to do is to lay out either your "warp" or "weft" strips and tape them down at the very edge to whatever your surface is. This will keep them from moving too much and un-weaving your project as you go. You will want to use either an artist's tape or painter's tape that can easily be removed from the paper when you are all done without ruining it.
Even if you are using one of those 2 types of tape you should first gently rub the sticky side across some fabric so it is only sticky enough to hold the paper down. This will help ensure a clean removal.
Once you are finished with your weaving you will need to secure it so it doesn't come undone. You can dab a little bit of archival glue* where the warp and weft strips meet at the edges for a seamless edge or sew them together for a more decorative edge.
*archival glue is highly recommended if you choose to go this route. The glue is PH-neutral and won't yellow the paper over time.
---
Paper doesn't have to just be for school projects! Let me know if you try out some paper weaving projects! Leave a comment below or tag @cole.bun on Instagram!
---